The use of wood in stair

building is

an age old tradition that has stood the test of time.
Every stair project that Nevada Stairs installs, is meticulously sanded before the application of the stain and top coat. Although we try to select each piece of wood for perfection, there will be natural markings and color variations that is part of the beauty of real wood.  
Depending on the stain color that is selected, it will either bring out the wood variations or help hide the wood variations.

Lighter stains have a tendancy to bring out the variations, while the darker stain colors will hide them.

 
---

WHAT IS HARDWOOD?
Hardwood generally comes from a deciduous tree that loses its leaves annually, and it is widely considered to be the highest quality of wood. It tends to be slower growing than softwood, and therefore it is usually denser, harder and more expensive. When well treated, beautifully worked and hand crafted, hardwood is the perfect choice for your home. Not only will it last for years, but it brings a real quality and class to your home.
WHAT IS SOFTWOOD?
Softwood comes from coniferous trees which have needles instead of leaves. They grow faster than hardwoods, which causes them to be softer and therefore more affordable as they are easier to work with. Given the correct treatment and maintenance, softwoods can be just as durable as hardwoods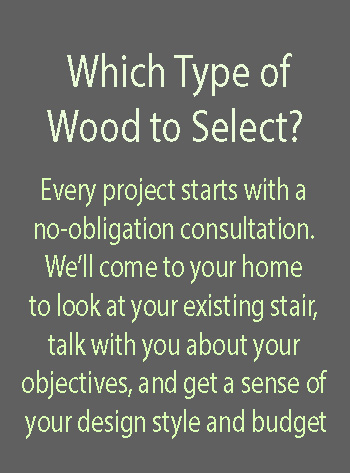 NATURALLY…   WE CHOOSE THE BEST